INTERCHAMPIONSOUR BREEDING MALES FEMALESOUR KENNEL DOGS
This section contains information about our dogs, photos, pedigrees, etc.
---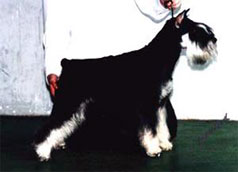 Santa Knyrys Be My Sweet Love
Born: 30.08.2001
Sex: Female
Colors: Black & silver
Date of death: 14.07.2013
Titles:
INTERCHAMPION
Rus Junior CH
CH Rus, CH Mold, CH Est, CH Lux, CH Ukr, CH Blr, Grand CH, Club CH, 5хCACIB
RES. CW "EURODOGSHOW-04"
CW "EURODOGSHOW-05"
RES. CW "EURODOGSHOW-06"
EX.-4 "WORLDDOGSHOW-2006"
CH INT, CH Den, Nord, Fin, Swe, Nor
HASSANHILL'S WILLIAMS

CH USA, Lux
BANDSMAN'S WHY NOT

CH USA
ADAMIS STATE-OF-THE-ART

CH USA
ALMA'S ROOM FOR JELLO

CH Swe, Fin
ART DECO USBUNNY

CH INT, CH Blr, USA
RAMPAGE'S RARE COMMODITY

CH INT
BANDSMAN'S CHIMNEY SWEEP

CH INT, CH Rus, Blr, Lit, Pol, Rom
SANTA KNYRYS MON SHER

CH INT, CH Ukr, Rus
SCEDIR XEINZ

CH INT, CH Ita
FALKENDAL'S KING OF DIAMOND

CH INT, CH Ita, Ger, Mon, Lux, VDH
SCEDIR TOPSECRET

SANTA KNYRYS GRUM ONIKS RICH

TAR-SZEPE BRUTUS

CH INT, CH Rus, Ukr, Blr, Lat, Geo, Fin, Est
SANTA KNYRYS GRUM B'KARMINA
OFFSPRING'S
---
Santa Knyrys Dastin Hoffman
/
Santa Knyrys Djane Fonda
/
Santa Knyrys Robertino Loretti
/
Santa Knyrys Radost Moya
Back